By Phil Hecken
For those of you who read Uni Watch on the weekends, you're very familiar with the "Timelessly Representing the Ballclub" series. For those who don't, a brief primer:
Originally envisioned for baseball, several readers have submitted their thoughts on which uniform and stadium (or arena/building) would serve as a "snapshot," if you will, of a club's perfect uniform and home, if one were to consider a team's entire history. It's subjective, of course, and very likely can be heavily influenced by the ballclubs and stadia from a particular reader's childhood, although this is not necessarily the case. But based on the more recent vintage chosen of both team and building, it seems like one's formative years play a role in this.
Thus far, we've covered both leagues of Major League Baseball, and both conferences of the NFL, and both conferences of the NBA. I am planning on running one set for the NHL as well as at least three different conferences in college football. I want to thank those who volunteered to cover these sports, and there was more interest in all of these than I could have imagined. Obviously, it's a popular topic.
Before we get into today's "Timelessly Representing…", which will take a look at the CFL, if you'd like to reacquaint yourself (or acquaint yourself, as the case may be) with the past "Timelessly Representing" series, you can check them out here: NBA, Part I; NBA, Part II NFL, NFC Edition; NFL AFC Edition; MLB, National League Edition; and, MLB, American League Edition.
Today I'm joined by a Canadian attorney (please try not to hold that against him), and a marathoner, and a fellow I can both call a friend and a gentleman, Mike Styczen. He's worked with me on a number of pieces (not surprisingly, most of them dealing with Canadian sports), and he's back today to bring you a look at that football league up north where they have some really crazy rules, eh? And like all Canadians, Mike will probably do things a little differently than the rest of use here in the States (and the rest of the world).
So, here's Mike to give us a…
. . .
Timeless Look at the CFL
By Mike Styczen
A comment was made earlier that this ongoing feature "Representing" wasn't so much of an analysis of the uniforms and teams as the writer writing about the uniforms that were in place when the writer became a sports fan. My first temptation was to pick nine CFL uniforms from the 1970s; I've avoided that temptation and have instead tried to be a little more thoughtful about which set best represents each team.
Eastern Conference
Toronto Argonauts: Early 1990s (Rocket Ismail period), Exhibition Stadium
Dishonourable mention: Argos worst
Hamilton Tiger Cats: Late 1960s (Angelo Mosca period), obviously Ivor Wynne
Dishonourable mention: TiCats worst
Ottawa Rough Riders: 1970s (Tony Gabriel period), obviously Lansdowne Park. Did you know there's an NHL arena under there somewhere?
Dishonourable mention: Riders worst
Montreal Alouettes: Sorry, but I'm going with the current look and Molson Stadium. They've made it iconic. [Ed. note: is that Don King on that sideline? — PH]
Dishonourable mention: Montreal Concordes (yes I know the Concordes are not part of the same continuity)
Stadium dishonourable mention: Autostade. Its hard to believe this stadium isn't imaginary.
.. .. ..
Western Conference
Winnipeg (yes, I know, technically in the east): 1970s (Dieter Brock era), Winnipeg Stadium. The new stadium is a beauty but its far too new to represent the franchise.
Dishonourable mention: Bombers worst. Drop the name "Reinebold" on a Winnipeg fan and see the reaction.
Saskatchewan Roughriders: 1960s (Ron Lancaster), Taylor Field.
Dishonourable mention: Roughriders worst
Calgary: 1990s (Doug Flutie), McMahon Stadium
Dishonourable mention: Stamps worst
Edmonton Eskimos: 1970s (Warren Moon), Commonwealth Stadium
Dishonourable mention: Eskimos worst
B.C. Lions: 1970s-1980s (Joe Paopao), B.C. Place before the renovation (again, the new stadium is a beauty but not yet iconic
Dishonourable mention: Lions worst
.. .. ..
The U.S. Experiment:
Best: Baltimore Stallions in Memorial Stadium
Dishonourable mention: Birmingham Barracudas, Memphis Mad Dogs
. . .
Thanks, Mike! I like the way you worked this, and especially incorporating the "worst" aspect into it all. And I think it's safe to say that most Canadians, and probably almost all Americans, view the American experiment as, well…not so good. That it came at a nadir in uniform design (for the CFL anyway) also doesn't help matters.
Well readers? I know many of you may not be familiar with that league up north, but I think Mike pretty much put this one out of the park (although I would strongly disagree with his choice of the current Montreal Al's unis). Not that many of us remembers how they looked in 1958, but THAT is a football uni. But other than that, I'd say it's a great job. Readers? What say you?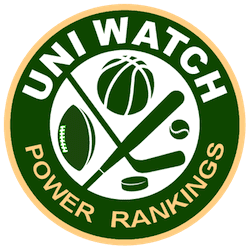 And Now a Few Words from Paul"¦
Hi, people. Remember me? Before I say anything else, let's have a round of applause for Phil, who's been doing some seriously great work these past two weeks. Very impressive, no? I've been enjoying his content every morning, just like you.
I wish I could tell you that I've been spending my blogcation on a road trip, or in a hammock, or something along those lines. The reality is that I've been working on several ESPN projects, including the new edition of the Uni Watch Power Rankings, which will roll out during the week of Aug. 19.
The Power Rankings will once again rank the uniforms for all 122 teams in the NFL, NBA, NHL, and MLB over the course of five days. Last year, as you may recall, we broke the 122 teams into five quintiles and revealed one quintile per day, going worst to first. This year, though, we've made a change: For the first four days of the week, we're going to rank the uniforms for one league per day (the sequence will be NFL, MLB, NBA, NHL), and then we'll post the 122-team intermixed ranking chart on Friday.
Some of you may have questions. Allow me to anticipate a few of them:
Aren't most of the teams just going to have the same rankings as last year?
Many teams will be in roughly (if not exactly) the same ranking spot as last year. But many teams have gotten new uniforms, and I've revised my thinking on several others, so there will definitely be some movement in the ranking charts. We're going to add a "Trending" column, like the ones used in ESPN's conventional league power rankings, to show each team's positive or negative movement since last year.
In last year's chart, each team's name linked to photos of its uniform set. Will you have new photos for each team?
If a team made a uniform change in the past 12 months, of course we'll have new photos. If the team hasn't made a change, we'll stick with last year's photos.
Doesn't that mean you'll sometimes have photos of players who aren't even on that particular team anymore?
Yes. Doesn't really matter (at least not to me), since we're talking about the uniforms, not about who's wearing them.
Are you writing new comments for all 122 teams?
Again, any team with a new uniform will have new commentary. For the teams that haven't changed their look, I've tried to come up with new comments whenever possible. Occasionally, though, I've looked what I wrote last year and thought to myself, "You know, that comment perfectly expresses what I think about this team's uniforms. Why change it?" So some of the commentary is repeated from last time around.
Will the Phoenix Suns' ranking be based on their new uniforms, which are due to be unveiled next Thursday, Aug. 15?
Yes.
Okay, that's enough for now. Thanks again to Phil for doing such amazing work while I slave away on ESPN work recharge my batteries, and to Johnny Ek for handling the weekends. I'll probably make another cameo appearance at some point in the next few weeks, and I'll be back for real on Aug. 26. See you then.
WEEKDAY Uniform Concepts & Tweaks
Longtime and weekend readers know that I frequently run reader submissions for uniform concepts, revisions, or just plain tweaks. Usually they are in sets of three, but sometimes there are more and sometimes there are less. Sometimes they are so good these deserve their own lede.
During Paul's monthlong Blogcation, I'll occasionally run one (or maybe) two of these.
If you have any concept or tweak, and you would like to see it featured here, either during the week while I'm hosting the blog or on the weekends when I return to those, drop me an e-mail. For each particular design, please try to keep your description to ~50 words or so. OK? OK!
And now, here's what we have for today (click any images to enlarge):
. . .
Today's concept comes from W. Ross Clites, who (after his incredible project to remake the NBA) is back with a baseball tweak — for the Pirates:
Phil,

How I spent my weekend…

Got back from a trip to Pittsburgh last week; saw the Buccos take 4 out of 5 from the Cards. Spending a lot of time in PNC (my personal favorite ballpark in the league) found me critiquing the current branding of the Pirates. Since they are allegedly in the market for a new image for 2014, I threw this together. Hope everyone enjoys. On to the next project…

Ross
. . .
Thanks! I'll be back with more weekday tweaks/concepts again.
Uni Watch News Ticker: "New Everton kits!" exclaims Andrew Rader. Everton Unveil 'It's in Our DNA' Away Kit. … And in a different article on the same topic, "This is hardly what I'd call a change kit," says George Chilvers. …Meanwhile, the "concussion hysteria continues," says Scott R. Jamison. … Bills to wear white at home? Based on the Panthers jersey schedule, it looks as though the Bills will open at home in White jerseys (great spot by Joe Bozek). … The Notre Dame equipment manager explains Shamrock uni process, which includes player reactions (thanks to Warren Junium). … Perpignan Rugby's (French Top 14) jerseys were revealed yesterday morning (h/t to Robert J. Hudson). … A bit of a new uni-mystery from Michael Rich, who writes, "Last Sunday night, Braves pitcher Alex Wood has some initials written in white on his cap. (I think it was BM, but may have been LM, I can't remember.) Unfortunately I didn't get a screen grab and I can't find a good picture but this picture clearly show a white smudge on his hat, but they aren't close enough to read it." Anyone know more? … Eric Leach writes, "Not sure if I have ever seen this before on a Nebraska practice jersey, but Taylor Martinez has a captains "C" on it. As above, anyone aware of this practice previously? … Not a uniform topic here, but a warning sticker on Schutt football helmets. "Make sure to read the last line," says Marc Mandin. … Our friends at Retro College Cuts, who specialize in selling throwback college basketball shorts, are branching out with a line of retro track jackets, which will debut next month (thanks Paul). … As Johnny Football is in a photo-related flap, 'Heisman' Howard is embroiled in one of his own (that submission ripped straight from the Yahoo hed by Jason Hillyer). … Here's an outstanding (but unfortunately small) picture of two U of Kentucky players that played for Bear Bryant. The two players were twin brothers and Bear's choice of numbers for them seems fairly unique. Brandon Roberts, who found that, notes, "I have confirmed through my elders in the UK community that those numbers were actually worn on the field. You can see the picture and read about the brothers at this link." … Since concussion-protection gear has been in the news lately, take a gander at the splash photo in this Philly.com article entitled, "Temple running backs eager to make an impact." … Good to hear from uni historian Ricko Pearson, who always knew the last Kansas City Blues had nothing on their home jerseys but a number on the back. Well, he finally found a photo (from the 1952 season). … We don't normally post cheerleader photos (for what should be obvious reasons) on UW, but this is an exception — a nice slideshow of cheerleader uniforms since the 1950s. … A reader who just goes (in e-mail, anyway) by Moulden, notes: "Looks like the Packers player 'event' jersey, not game cut, has some pretty bad mismatched nameplates." … In a day mercifully short on College Football news, we learn that Stanford will retire John Elway's #7 jersey. … Don't you just hate it when the NCAA gets all high and mighty hypocritical about profiting off player jerseys and merch, while the players themselves receive nothing? It's interesting because one of the defendants in a pair of lawsuits concerning the use of college athletes' names and likenesses said in a court filing Monday products bearing college athletes' jersey numbers do not represent actual college athletes (emphasis mine). … Hadyn Green was chatting to Caleb Borchers (with whom I will soon be doing an article) on twitter and he thought UWers might be interested in a Rugby Uniform Bracket he's running. Round One has just finished and they're into the Sweet 16. Haydn looked at Super Rugby jerseys and International jerseys ranked them and then put it up for a vote. … Yesterday we say the NC State Wolfpack uniforms, and today we see what they look like in pads. … More fun with A-rod, courtesy of 12th Man (@SeattleFan77), who notes this is this is the wrong spelling, but it'll do. … We've (undoubtedly?) covered this before, but I was watching the Rockies/Mets game last night, and just noticed Adam Ottavino sports a "0" on his uni. Very odd to see a pitcher with that number. … ICYMI, there have been some bad MLB.com Photoshops recently, including this one covered by Deadspin. Britton Thomas thinks this might be worse. … And here's some cool stuff from the old PCL (thanks to Nicole Haase). … If you're wondering what outfits Tiger Woods will be wearing for the PGA Championship, wonder no more. … And in non-uni, but logo news, Yahoo will be getting a new logo on September 5th. Good news? It's a slightly more adult font. Bad news? It's still purple (thanks, Brinke).
And with that, we'll tie a bow on this fine Wednesday article. Big thanks to Mike Styczen for tackling (pun firmly intended) the CFL "Timelessly Representing" portion of this series (I'll have a few more of these before my weekday run ends). Speaking of which, great to hear from Paul, who should be enjoying his blog-cation and not slaving away at a hot ESPN stove (but we love him for it). Looking forward to those rankings! Gotta think the Vikings and Astros (among others) will move up a slot or two this time around.
You fine folks have a wonderful hump day and I'll be back again with more uniform news and views on the morrow.
Follow me on Twitter @PhilHecken.
Peace.
.. … ..
"I'm just hoping that the increasing popularity of uniform season will help boost my interest in my uniform fantasy league. I drafted chrome, matte, & extraneous sparkly shit this year, so I'm hoping for big things."
–Hugh C. McBride