Hmmm, is this a new Texas A&M football uniform? Could be, according to a reader who prefers to remain anonymous:
I recently visited Adidas HQ in Portland and saw these uniforms in their football room. The helmets start black up top and turn to maroon toward the bottom. Facemask is the same way.
Interesting. I ran the photo past an Aggies-obsessed friend of mine. Here's what he had to say:
If I had to wager, I'd guess they're looking for something to trot out for their big Sept. 14 home game against Alabama, which is one of the most anticipated games in A&M history. Last year, that was the only game they wore the all-whites for. They wore the all-black ones for their first big game against a highly ranked team, Mississippi State.

Sumlin definitely seems to try to fire the team up with that kind of stuff.Now you're gonna ruin the surprise and they're gonna lose and Johnny's not gonna win two Heismans and then I'm gonna wage a campaign for the Mets to wear black and purple uniforms.
(Update: Several commenters are pointing out that this is essentially the same uni A&M wore against Mississippi State last year. Only the pink arm sleeve is now. Ah well…)
Speaking of Johnny Football, he threw out the first pitch at last night's Padres game, so they gave him a jersey with a Heisman sleeve patch (photo courtesy of Jared Bremseth, click to enlarge):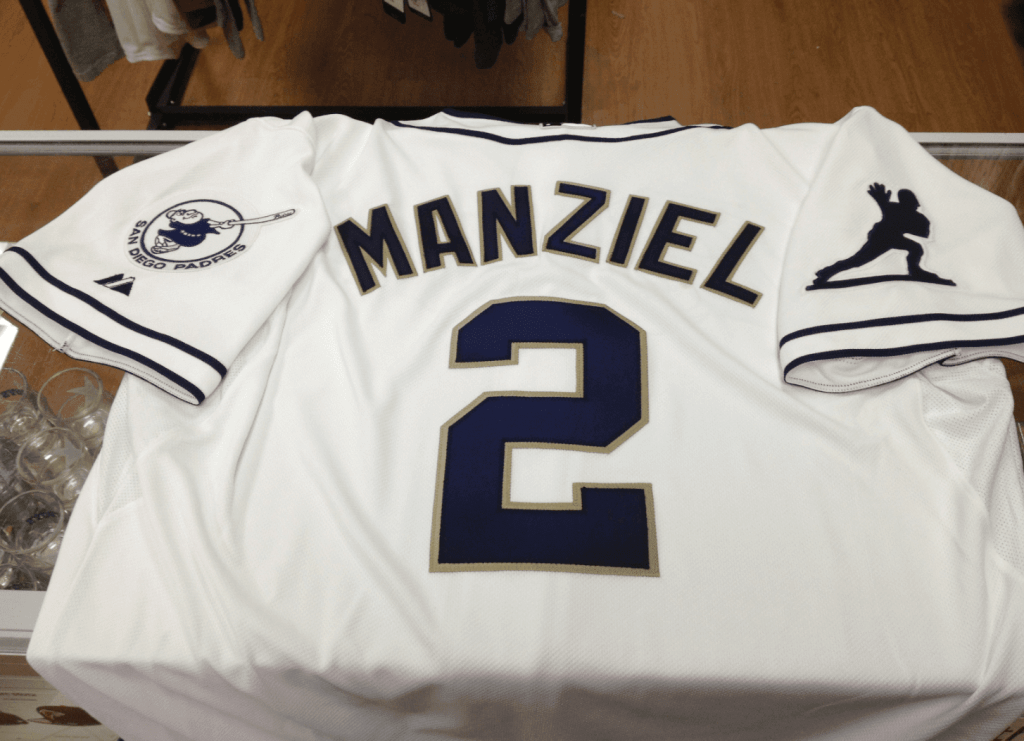 And as long as we're talking college football: Memphis is letting fans vote on two new proposed uni options, and Michigan won't have alternate uniforms this season.
+ + + + +
Purple Amnesty Day: Today is the seventh anniversary of the first entry ever published on this site. In keeping with longstanding tradition, that means today is also the one day of the year when the prohibition on purple-inclusive Uni Watch membership cards is lifted. So if you've been waiting to order the Vikings- or Lakers- or LSU- or Rockies-themed card (like Greg Cornwall's LSU helmet treatment, shown at right), now's your chance. Sign-up details, as always, can be found here. I'll accept purple-inclusive orders until midnight Eastern tonight. (Of course, non-purple orders are also welcome.)
Bizarre chromatic coincidence: Today is also "Wear purple for lupus" day.
And hey, membership cards and purple aside — seven years! That's pretty amazing. My thanks to each and every one of you for helping to make Uni Watch such a fun, successful project.
+ + + + +
Uni Watch News Ticker: Another uni-notable thing about today's date: It's the birthday of Carlos May, the only athlete I'm aware of to wear his birthday on his jersey (my thanks to Brendan the Aspie for pointing this out in yesterday's comments). … Bloody Nolan! "That's from Sept. 8, 1990," says Andy Chalifour. "Bo Jackson led off the second inning by hitting Nolan Ryan's first pitch back to the mound. Ryan misplayed it and the baseball hit him in the mouth. Nolan Ryan refused to leave the game and went on to pitch through the seventh inning." … Faaaascinating piece on how apostrophes are frowned upon in place names. … Rays pitcher David Price has been suffering from allergies that have been traced to the team's uniform-laundering system (from Brian Mazmanian). … Buried within this story is the news that the Warriors will likely retain their sleeved jerseys for next season. … Good piece by Chris Creamer on the American and National League logos being updated. … Mets pitching prospect Zach Wheeler, who hails from Atlanta, was wearing a Falcons cap while in New York for a cortisone shot. … For the first time ever, Ebbets Field Flannels has done a college baseball throwback jersey — for Illinois State, 1969. … Dobyns-Bennett High School in Tennessee has some seriously weird baseball pants. "The head coach is the cousin of my best childhood friend, but I still haven't had the balls to ask why these were even thought of, let alone produced game use," says Daniel Hargis. … The Stockton Thunder (ECHL) will mark their first appearance in the Kelly Cup finals with this jersey patch (from Richard Paloma). … Did you know there's a blog devoted to U.S. military uniforms? I learned that from this story about the military's latest camouflage debacle. "And we thought the Jags had problems," says Chris Weber. … Here's a gallery of cycling shoes from the Giro d'Italia. "Sweet Jesus!" says a rapturous Sean Clancy. … Latest sports-themed soda display is for the Blackhawks. "Now that's you honor Native American heritage," says Jamie Uthe, with an indeterminate level of irony. … In a vaguely related item, check out this Blackhawks-themed barber chair. I happen to have that exact chair in my living room — only, you know, without the team design theme (from Brian Crago). "¦ Small item at the bottom of this page informs us that the Rays are wearing camouflage on their current road trip. That's, like, on the plane and the bus, not on the field (from Kevin Kleinhans). … All U. of Oregon teams will wear an "AR" memorial patch in memory of Alex Rovello, an Oregon tennis player who died last week (from Maks Skuz). … A Papa John's delivery guy in Brooklyn was allegedly selling cocaine while in his Papa John's uniform. At least this finally explains the longstanding mystery of why anyone in Brooklyn would order Papa John's. "Yeah, gimme a large extra-cheese, half pepperoni, half coke." … Ladies and gents, your Hillsboro Hops. The team's inaurgural uniforms were unveiled yesterday (from Christopher Ouellette). … Did you know there were college football teams in Ireland? There are! And one of them is facing criticism for wearing Penn State jerseys (from Chris Flinn). "¦ The Cardinals are giving away striped socks this Sunday and have produced a fun video to promote the giveaway (from Joe Mueller).
Battle of the Uniforms: Voting is still open in the LCS round until 9am Eastern. The World Series round, which looks like it will feature the Cardinals (no surprise there) vs. the Orioles (huge surprise there!), should be up and running by noon-ish today.