Last Thursday night I received a note from reader Don Gale, who wanted to let me know that Astros first baseman Carlos Peña was wearing a pair of armbands that created a very cool double-stripe pattern. I immediately loved the look — reminded me a bit of the Cubs' old striped undersleeves (which, as you may recall, were revived two years ago for a throwback game).
I asked Don if Peña always wore his armbands this way, and he said he hadn't noticed it before. So I did some quick photo research and discovered that the double stripes are indeed Peña's visual signature. It's a great look. How great? Let's count the ways:
1. It looks great when he's preparing to swing:
2. It looks great on his follow-through:
3. It looks great as he's running out of the box:
4. It looks great when he's sliding:
5. It looks great when he's trotting back to the dugout after scoring a run:
6. It looks great when he's high-fiving a teammate:
7. It looks great when he's praising the Lord:
8. Out in the field, it looks great when he's slapping a tag on a baserunner:
9. It looks great when he's stretching for a throw:
10. And it looks great when he's reaching to snag a pop-up:
That's a whole lot of great! It turns out that Peña wore the double stripes when he played for the Rays too, but back then he also wore an armband and wristband on his left arm, something he no longer does now that he's with the Astros. I also found a shot of him wearing what appears to be a single band on his right forearm during his time with the Cubs.
In short: Peña's been doing this for a while, but somehow I'd never noticed. One thing I wonder about is whether he'll keep doing it once the weather gets warmer. Like, does he always wear a long-sleeved undershirt? If not, will he still wear the armbands over his bare arms? And if so, how will that look? (My hunch: Not as good.)
Peña isn't the first player to have a specific armband protocol, of course. Luis Castillo usually wore a big orange armband, and Nomar Garciaparra often wore red on one side and black on the other. (He also wore a little angel pin on his left armband, which was the subject of an ESPN column that I wrote back in 2007.) And there are plenty of additional examples.
But Peña's armbands are definitely the coolest-looking of the bunch. Thanks again to Don Gale for pointing them out to me.
+ + + + +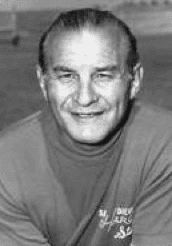 Research query: I was looking at the Wikipedia entry for Sid Gillman (shown at right) the other day and noticed the following: "Gillman also came up with the idea of putting players' names on the backs of their uniforms."
As you probably know, the first pro sports team to wear NOBs was the 1960 White Sox, and then most AFL teams — including but not limited to Gillman's Chargers — followed that fall. I've never heard of this being attributed to any specific AFL exec and always thought it was one of many initiatives that helped differentiate the new league from the NFL.
Of course, lots of things on Wikipedia are wrong. And the Gillman/NOB statement doesn't have a source citation. So I'm skeptical. But I'm also curious — has anyone else ever heard of football NOBs being Gillman's idea? If so, do tell. Thanks.
+ + + + +
Food for thought: As most of you are aware by now, over the past few years I've explored — just theoretically, of course — the visual intersection of sports and meat. With the Knicks enjoying their best season in years, I recently decided it would be fun to expand my sports/food parameters beyond the realm of protein. Here are the results (click to enlarge):
Not bad, right? These shirts have not been produced and are not for sale. They're just digital doodles, fun little exercises. But if they were available — just hypothetically speaking, of course — I wonder how many people might be interested in them. Can I see a show of hands?
+ + + + +
PermaRec update: The latest entry on the Permanent Record Blog is about an old film canister found in an antiques shop, which leads down an intriguing rabbit hole involving a 1970s teen exploitation film (the poster for which is shown at right). Check it out here.
OMFG: My latest One-Man Focus Group column is about the apostrophe catastrophe.
+ + + + +
Uni Watch News Ticker: The changes to the Chargers' jersey that we'd all observed — no more neck roll, two-color NOB lettering — have now been officially confirmed. … Last week it was reported that the Dallas Stars would unveil their new uniforms during the fist week of June. We now have a firm date: June 4, 7pm Eastern. "¦ Rex Henry spotted an amusing pair of Ovechkin fans after last Thursday night's Caps game. … John Cravaack was recently put in charge of creating the uniforms for his local youth football team, and he did a truly outstanding job. … Remember Logorama, the Oscar-winning animated short from a few years ago? It's now the basis of a new book that showcases over 40,000 logos (thanks, Kirsten). "¦ Bosox pitcher Clay Buchholz, accused of throwing a spitter, said, "Are they talking about the stains on my shirt? There probably are stains on my shirt, because I've been wearing the same shirt for the last three years." It's not clear to me if he's referring to his jersey or his undershirt. "¦ Athletic Club Bilbao went MNOB the other day — that's mothers' names on back (from Andrew Bassler). "¦ Someone on craigslist is selling a pretty wild pair of Chicago Bears shoes (from Steve Jacobson). "¦ Temple University has told a Canadian high school to stop using its logo. Further info here (from James Ashby and Kurt Esposito, respectively). … "I've watched a ton of hockey in my day," says Chris Wautel. "I can honestly say I've never seen a center ice corporate ad before (or if I have, I never realized it). That's the logo for Skoda, a European car company." … New uni number assignments for the Titans and Patriots (from Jimmy Morris and Tom Adjemian, respectively). … New uniforms coming this summer for Virgin Atlantic Airways (from Mike Cooperman). … Notre Dame football coach Brian Kelly was on the radio recently, and the topic of the team's Shamrock Series uniforms came up: " If you didn't like the shamrock, and the blue shamrock, if you didn't like that one, you're going to hate this year's. It's gonna be awesome. So I'm just getting you ready for it" (as transcribed by Warren Junium). … The Dolphins were mixing their new-logo helmets with their old-logo practice shorts at rookie minicamp the other day (from Frankie Parish). … In a related item, the Vikings are using their new helmets but their old practice jerseys (from Joseph LaFerla). … A long time ago, Mako Mameli sent me photos showing that the Raiders used to have shield-shaped yard-line markers. If you skip ahead to the 2:50 mark of this interview with Raiders special teams coach Bobby April, you can hear him lobbying for a return to those shields. I'm pretty sure the interviewer had no idea what he was talking about. … Renick Bowman has noticed an inconsistency in the Pacers' uniform striping. As you can see in the highlighted area of that photo, the color sequence on the jersey striping, from left to right, is white-gray-gold, but on the shorts it's gray-white-gold. Weird. … Mets reliever Robert Carson wore a BP jersey with a nickNOB prior to Friday's game in Atlanta (from Robert Silverman). … Here's a video showing how the Seattle Sounders' equipment managers prepare for a road trip (from Kevin Corcoran). … The Brewers usually wear a solid-blue cap with their Friday throwbacks. But this past Friday they wore their BP caps. Still had the solid-blue batting helmets, though. … The Giants held Metallica Night on Friday, and they made Metallica/Giants caps for the band members (from John Muir). … The Hanshin Tigers are wearing a special uniform for "Ultra (urutora) Summer" home games in July and August. "The urutora and the spelling matches Ultra, and tora is tiger in Japanese," explains Jeremy Brahm. … What's worse than a Native American mascot? A testicle mascot. … Ryan Hertlein found something odd for sale: a David Wright Yankees jersey. … Here's a color match-up you don't often see: cream vs. white. That's Vanderbilt in the cream throwbacks and South Carolina in white (from Gabe Ortiz). … Michael Orr notes that Ajax's kit design works fine for shorter NOBs, but longer names present problems. … Jim Mullin has been working on a project to document every football helmt worn by Canadian universities since 1965. "Some are American copycats, some are inspired, and some are too unique for their own good," says Jim. "In some cases, I'm sure that translating the Dead Sea Scrolls was easier." … Here's a video clip of AC/DC wearing Scottish soccer uniforms for a 1978 gig in Glasgow. "Even Angus Young ditched the schoolboy uniform," notes James Ashby. … Scott M.X. Turner was watching Game 5 of the 1969 World Series and noticed that the orange layer of twill was missing for the dot on Frank Robinson's "i." "¦ The Giants did the "Gigantes" thing last night. "¦ Speaking of the Giants, all those boaters in McCovey Cove now have their own hot dog vendor in a kayak (thanks, Phil). "¦ Cardinals fans were asked to pick their favorite uniform during yesterday's game. Here are the results (from Paulie Sumner). "¦ Love this old Shea Stadium postcard that Dan Cichalski recently scored. "¦ Dueling cancer-awareness jerseys in an NCAA softball game yesterday: UGA wearing pink for breast cancer, LSU in teal for ovarian cancer (from Christopher Mycoskie). "¦ Ryan Kessler of the Canucks broke his chinstrap last night and had to get a new helmet prior to a faceoff (from Dan Snider). "¦ Here's a look at the gear for the NCAA lacrosse tourney. "¦ Alan Beam recently worked on a rebrand for the Grand Prairie Airhogs. "¦ The Brewers and Cardinals wore 1913 throwbacks yesterday. Chance Michaels and Phil had a good preview of the game in yesterday's entry, and they'll have a more extensive breakdown on Saturday. "¦ David Miller has ranked all 30 MLB logos and all 32 NFL helmets. "¦ Oh baby, look at this amazing Eastside Beer baseball jersey, complete with a spectacular sleeve patch.